For the lazy fashionista in you, the shift dress is a fun silhouette to try and style for spring & summer because it requires minimal effort and you can find them at many stores. Two style icons that I specifically remember admiring for their shift dresses are Olivia Palermo and Alexa Chung. (Petite hint: I am only 5'3 and the shift dress, already relatively boxy, made me think that it could overwhelm my smaller frame. If you're petite, consider looking for a shorter dress! If it hits your knees, consider getting it hemmed or find another.)
….These two look perfect as usual. Onto my shift dress search // A few months ago I was running errands and passed by the clearance rack at Target (a definite guilty pleasure) and found this shift dress that's a bit more structured than what I had in mind. 50% off retail and some store credit made me do it..so here I am with an extra dress in my closet that I don't need.
I finally took it out of my closet and wore it out to an anniversary dinner last weekend and it was very simple to accessorize! I almost always accessorize black clothing with either yellow or rose gold and it's always a perfect match. I also added a bit of a pop with some neon with this oversized envelope clutch!
Highlighter yellow and laser cuts – I'm in love.
For practicality and because I knew I would be walking around in the evening, I ditched my initial choice of five inch strappy wedges for suede booties. I like how they dress the look down and keep the focus on the dress and clutch. This is a dress silhouette that I will continue to enjoy experimenting with!
Below are some other shift dresses I love // click each picture for a link to buy!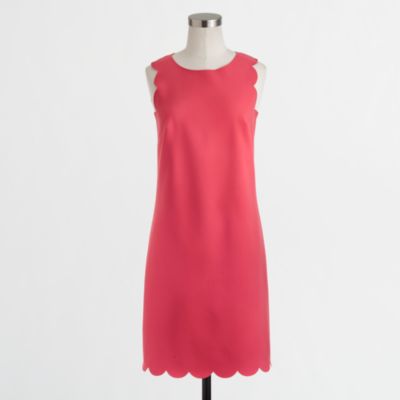 Thanks for reading! As always, I appreciate all your support. :)